To the 2,298 new folks here since last week – welcome to a classic bait n switch. Here's the deal:
I reel you in with simple stuff like factory links, only to smack you upside the head with the real game right here in your inbox. The Instagram and TikTok videos that pop are fun, but this is the shit you need if you're actually building products.
Right now we're working through the product pyramid shown below. It lays out a foundation for creating a perfect product and this week we're talking pricing. Let's go.
"Five-hundred million, just for Aubrey
– Drake, Major Distribution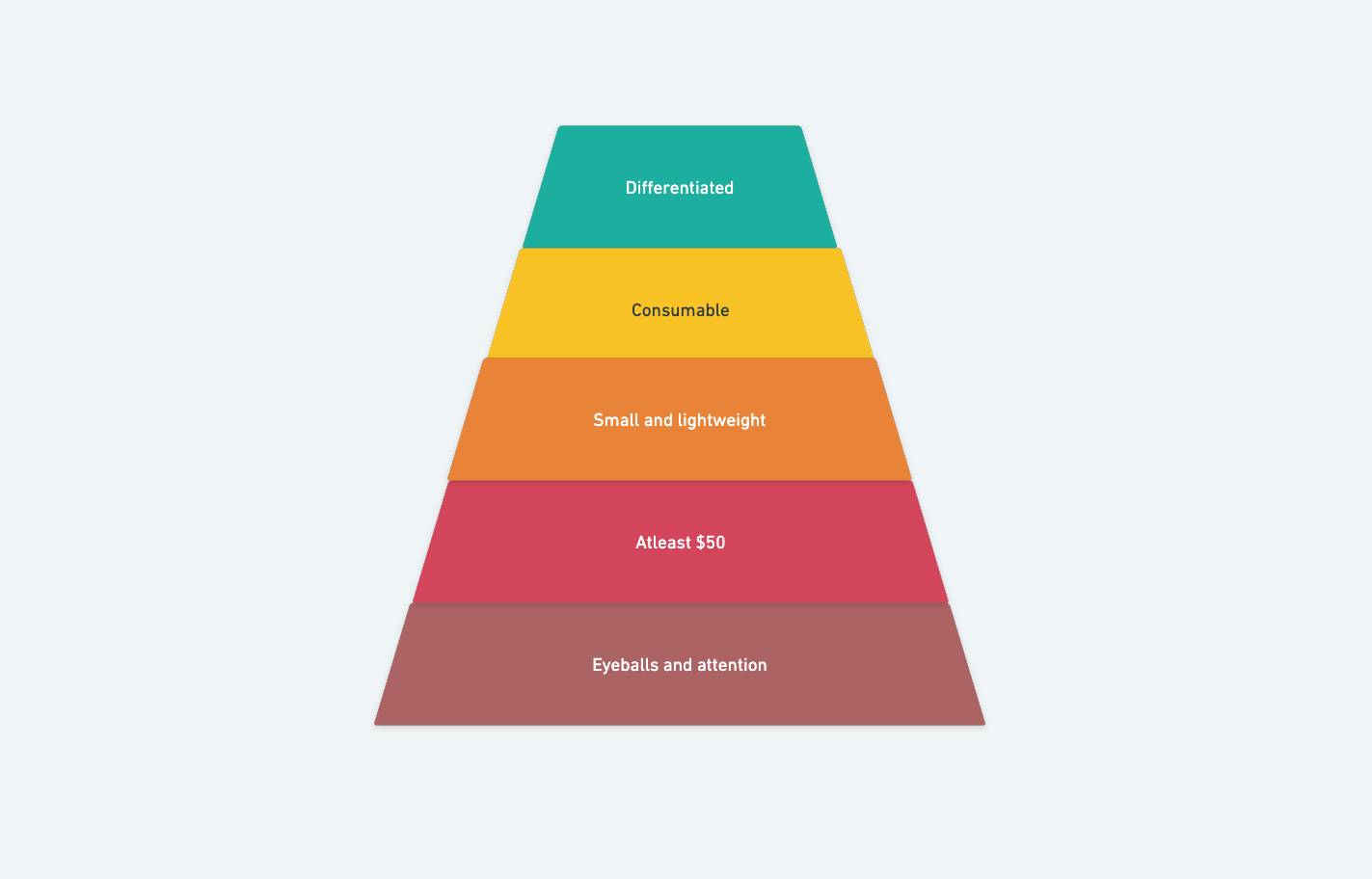 On background:
Before I lay out why, and explain how: let me remind you that you should almost universally, always, without question, raise your prices. Make sure the value is there, and then charge more.
Unit economics
First things first, you need to make this easy on yourself. I remember being blown away the first month we did $1M, but with an average price of $2,000… that's only 500 units.
Compare that to a $10 product. You'd have to sell 100,000 units for the same $1M top line.
O n e h u n d r e d t h o u s a n d. Lol.
That sounds like a lot of work. More units = more orders, and more orders = more expenses.
Let's talk about expenses
After your COGS (cost of goods sold), there are 2 categories that really matter, and until you blow up they're essentially the only costs you should have.
Acquisition cost – the marketing dollars you spend to directly get an order

Ads on Instagram, Google, etc
Influencer campaigns

Fulfillment cost – what it costs you to get it to the customer's door

Shipping
Driving those damn things to the post office OR
Fulfillment center
For the sake of this conversation, assume we're selling a nice premium polo. Here's a rough breakdown:
Cost of Goods: $18
Shipping: $5
Fulfillment center (once you're too big to do it yourself): $3
So, it costs $26 to get a polo to your customer's doorstep. If we sell that polo for $40, as many do, 65% of your revenue is out the door before we even touch it.
But if we sell that polo for $80, the exact same #'s are only 32% of your total sale price.
This may seem obvious but we haven't talked about acquisition yet, and that's where this really starts to matter.
Our $40 shirt brand has $14 left to run the business. With excellent ad campaigns let's assume we've got a CAC (customer acquisition cost) of $10.
Bravo, we make $4 per shirt. The fucking mail man makes twice as much as us on each sale.
Compare that to the $80 polo with the same $10 CAC:
We make $44 on each of those.
We doubled the price, and 10x'd the profit. Literally.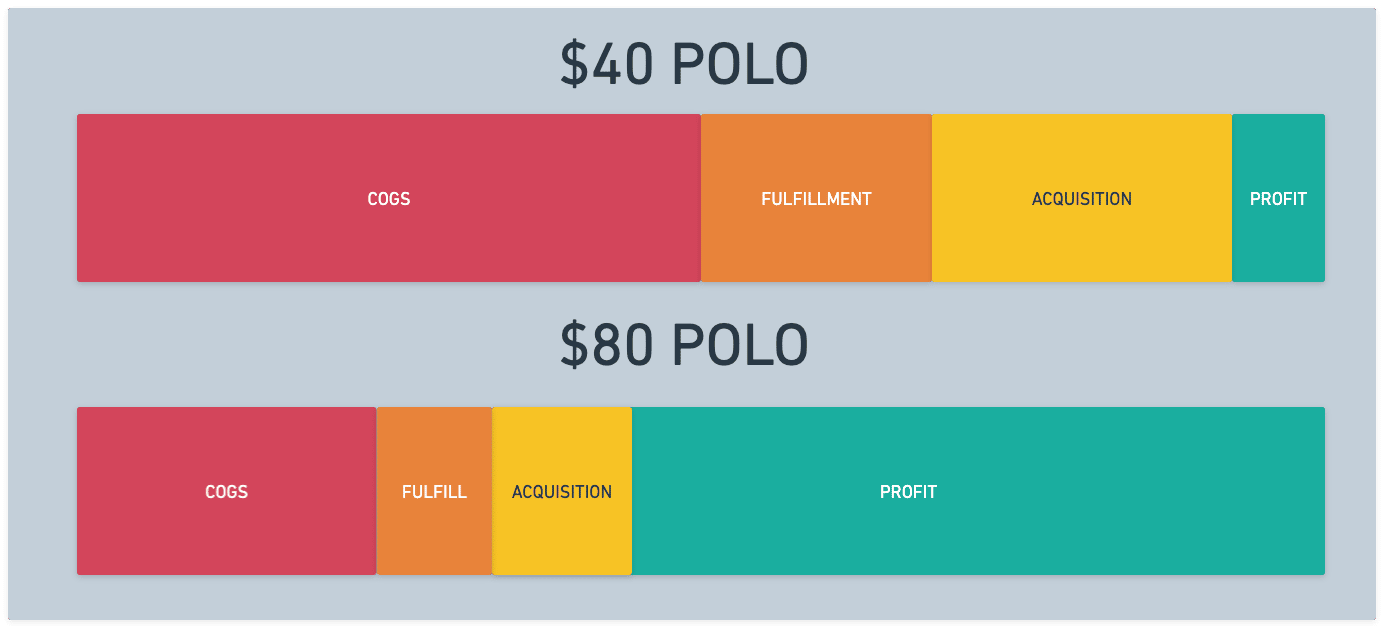 Yes there are caveats. The premium brand probably spends more on packaging, maybe more on product but not necessarily. I appreciate this kinda pessimism but the more important takeaway is this: we have TONS more room to spend on marketing. We could spend $30 to acquire a customer and still clear $20 per shirt. We've got a business folks.
How to get your price up
$50 is an arbitrary magic number I keep in mind. Not all products are born this way, so next let's look at how you can get there.
Go Premium
Competing on price is the weakest position you can take in the market. Here's how to tip the scales to premium with your product.
Product – Go higher quality, differentiate, and add detail.
Packaging – Different materials, inspo from other categories, nothing stock, get weird.
Brand (the most illusive) – More detail, more consistency, clearer message, stand for something.
Configurations
A lower ticket product can be reconfigured and repositioned to get you where you need to be, and there are a lot of ways to do it.
Packs: Multiples instead of singles. Duh. Balls come in dozens. Tees come in 100 packs.
Bundle: Bundle several color ways, the full collection instead of a single piece. A whole set of irons instead of just a 7i.
Starter kits: Just another context on bundling, but an excellent approach for single product brands, or brands with a hero sku that dominants their sales mix. Build out a kit that includes simple accessories, maybe some swag, even information and in depth guides for using the product. Good kitting can double or even triple the price you started with.
The free shipping hedge
The shipping & fulfillment element of this is often addressed with "Free shipping if you spend X!". Free shipping is critical to conversion in 2023 , and this is a good best practice to get your AOV (average order value) up. This turns 1 shirt into 2, or a cheap accessory purchase into a real order. You should use it, but you should not rely on it.
As I've pointed out in the past, Titleist's website has their free shipping bar set at $175 which is hilarious. If you want to kill conversions, do this. My guess is they do it intentionally to send buyers to their retail partners to buy instead – those partners are their bread and butter.
---
The links
Looking for this week's links so you can click unsubscribe and run away into obscurity? The latter is below, but you'll find links to Tal Apparel, Good Trust, Zongshon Metal Craft, HB Electronics, Global One, and more here.
Related: the perfect rope hat search continues! I had a VA compile your suggestions into a spreadsheet. It's not done yet but it's about time for me to get out the credit card and start buying… if there's something you think I need on there: reply to this email!
PS: check out my friend's newsletters on on building products and buying and selling websites.